On the Way to Becoming First in 5G Proliferation Worldwide and Building an Inclusive Regional Digital Economy
SAMENA Council's Leaders' Summit 2019 Showcases Regional 5G Readiness

SAMENA Telecommunications Council's annual Leaders' Summit was successfully held at Atlantis, The Palm, with patronage of the Telecom Regulatory Authority  (TRA) of the United Arab Emirates, provided under the leadership of Director General H.E. Mr. Hamad Obaid Al Mansoori; with special guest-of-honor address by UAE Cabinet Minister & Minister of Tolerance H.H. Sheikh Nahyan bin Mubarak al Nahyan; and a leadership message by International Telecom Union (ITU) Secretary-General H.E. Mr. Houlin Zhao, acknowledging telecom operators' challenges and the need to close digital divides.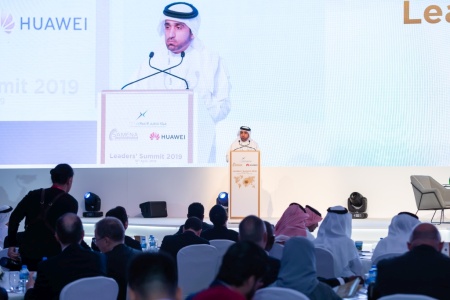 Hosted for the sixth consecutive year by Huawei Technologies Middle East, co-sponsored by Sudatel Group and Ericsson Middle East, with Zain Group promoting the need for child protection online as an important imperative for the Industry, Etisalat showcasing its superior 5G readiness in the UAE, and with promotion of the upcoming WRC-19 by NTRA of Egypt, the one-day leaders-only congregation, the Leaders' Summit 2019, delved into discussions pertaining to the future of 5G and foreseeable impact that 5G will have on ICT business growth, and on the development of the digital ecosystem and innovation, as the region prepares for the digital revolution and anticipates fulfillment of national ICT visions.
The TRA-UAE's DG H.E. Hamad Al Mansoori reiterated to the leaders' congregation the UAE Government's resolve in ensuring that government-provided digital services must be at par with those provided by the private sector in terms of agility, quickness, interactivity and customer happiness. This added to SAMENA Council's expectations in working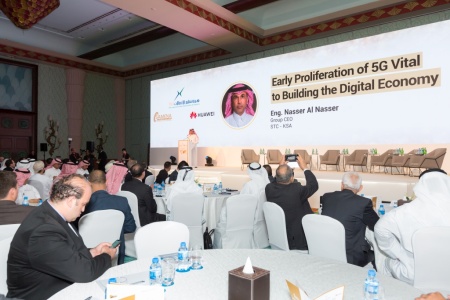 more closely with the TRA, especially with regard to so many questions that still require answers on digital transformation and 5G development. The UAE regulator also publicly acknowledged that SAMENA Council's Leaders' Summit is an important platform for demonstrating collaborative thought-leadership through identifying, discussing and showcasing strategies that can contribute to the achievement of our common digital agendas.
SAMENA Council's Chairman of the Board, Eng. Nasser Al Nasser, GCEO of Saudi Telecom, presented an objective viewpoint on the current state of network advancements and investments. The Chairman also emphasized that it is essential to understand how the new technologies, which will be truly enabled by 5G, will impact and change our societies and how they can be meaningfully and constructively introduced to benefit all stakeholders in an inclusive manner.
The GSMA's DG Mr. Mats Granryd provided his expert insights into the imminent onslaught of "intelligent connectivity", and the need for fostering it through the creation of an enabling environment and regulatory frameworks.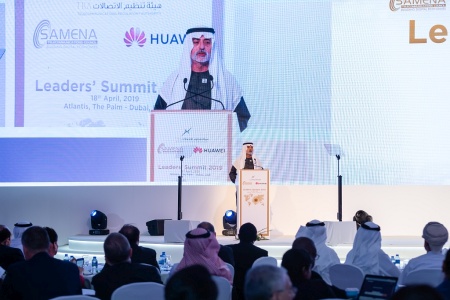 The United Arab Emirates' Minister of Tolerance, Sheikh Nahyan bin Mubarak al Nahyan, as Guest-of-Honor, provided his unique observations on the Industry's progress and how the Industry's future-building endeavors now require, more than ever before, active collaboration. The Guest-of-Honor publicly acknowledged that SAMENA Council's Leaders' Summit is not just about technology but about leadership; leadership which can help assure that, wisdom, efficacy, and humane utilization of technology an digital applications prevail throughout our technological progress. Only sound leadership, supported by collaboration, can assure the fulfillment of this objective. The Leaders' Summit indeed exists to celebrate regional and international dialog and co-operation to promote growth and create a better future for our regional economies, and to better understand the interdependence of economies on one another.
Representation of the region's largest economy, the Kingdom of Saudi Arabia, and its readiness for 5G deployment was made possible during the Leaders' Summit 2019 by CITC Governor H.E. Dr. Abdul Aziz Al-Ruwais.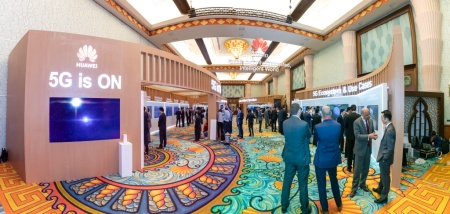 Among the Leaders' Summit's highlights, leaders from across the private and public sectors took part in Huawei's "5G is ON" forum, discussing plans for 5G readiness in the region, while examining best practices ahead of large-scale 5G network deployments in the Middle East and internationally. Huawei provided insights on how 5G can benefit the acceleration of digital transformation; and help achieve the targets of the national visions and agendas, in addition to creating new revenue streams for telecom operators in line with the development of different industries and sectors in the region. Driven by the goal of creating an intelligent 5G ecosystem, Huawei, as host sponsor of the Leaders' Summit 2019, assured the industry leaders that it has invested considerable resources into 5G development, deployment, and infrastructure, and has been a partner of choice for global operators to deploy next-generation networks.
"Today the era of 5G is upon us, with new networks across the region either rolling out or on the verge of being launched," said Charles Yang, President of Huawei Middle East. "As evident in our 5G is ON forum during SAMENA Council's  Leaders' Summit 2019, the entire ICT ecosystem is now coming together faster than expected to ensure this great opportunity will be an enabler for realizing national development on a regional and even global scale. 5G large scale rollout in the Middle East has started since 2018, GCC countries are in the first wave of 5G rollout globally. Huawei is well prepared to provide organizations across the Middle East with the best possible solutions to take full advantage of this next generation of communications. Huawei has the great willingness, capability and confidence of building the most secure 5G networks."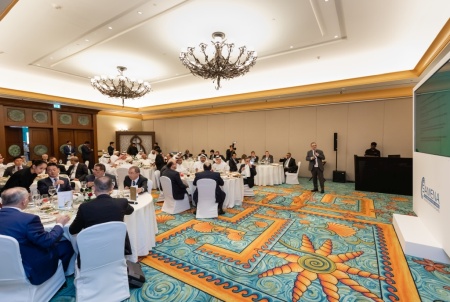 SAMENA Council's 4th SALT Meeting (SAMENA Leaders' Roundtable) among operators, technology providers, and regulators was also held. A by-invitation-only closed-door meeting, following the Chatham House rules of communication, the SALT Meeting was organized to discuss critical issues, including those relating to 5G spectrum availability in the region, preparations for the global WRC-19 conference later this year, cross-border spectrum interference, and digital services matters, with special mention of the need to protect children online.
The SALT meeting discussion brought into focus WRC-23 (four years after the upcoming WRC-19) where some prevalent spectrum issues may meet effective rectification. Operators' general perspective was that prevailing spectrum issues, including spectrum harmonization and cross-border interference, will not be a show-stopper for 5G investment, even though hindrance may actually come from regulation or from not being well-prepared ahead of time. Discussion of the SALT meeting was held with an underlying perspective that the future path of 5G development, in some significant ways, would be determined by WRC-19, and thus SAMENA Council feels due collaborative efforts should be exerted toward preparing for WRC-19, while defining more precise advocacy strategies and Operators' goals for WRC-23.
During the SALT Meeting, SAMENA Council emphasized that Operators are key to the success of a healthy digital services ecosystem – not just as infrastructure providers, but also as key service providers operating individually as well as collaborators with governments. To this effect, SAMENA Council's Working Group on Digital Services is in the process of finalizing a high-level policy, legal and regulatory (PLR) reference framework, which may provide high-level guidance to governments and regulatory authorities across the SAMENA region (and beyond) in creating a thriving and supportive digital services ecosystem.
Key insights from the Leaders' Summit's discussions and leaders' viewpoints included as follows:
As much as 5G is expected to unleash tremendous digital potential and opportunities, it poses uncertainty and risks of paving roads in the new frontier. While the private sector will end up leading the innovation that makes 5G's potential into a reality, governments will have to play a crucial role in lessening the uncertainty for markets and market participants. Governments should therefore take a proactive approach to maximize the potential of 5G, from mitigating risks of investing in 5G infrastructure to helping to explore new business models through the public private partnership.
The regulators need to start to offer the 5G spectrum as the main building block for kicking off the 5G deployment. It is important to provide the spectrum that satisfies the need to deliver whatever expected from 5G from the operators or other key verticals such as transport and health. For example, mobile operators will require around 100 MHz of contiguous spectrum each from the C-band, to deliver 5G Connectivity, Services and Data Speeds better than current 4G networks.
Governments can help in giving more spectrum at reasonable prices, by taking into account the 5G deployment costs and by realizing that the society will benefit more from the 5G digital services offered at low tariffs. Regulators may also support exempted service trials for a mutually defined period of time.
The design of 5G networks requires hundreds of telecom towers and using the infrastructure of lighting poles, advertisement boards and any suitable existing and future structures to provide full coverage and high capacities to connect various devices, services and applications with the main telecommunications networks. So it is very important to allow the use of the available infrastructure owned by the government entities.
As 5G network requires thousands of base stations, the Industry needs to send a re-assurance message to the public regarding human health and environment by carrying out studies and researches.
Fixed-Wireless is one option for 5G to make money, but only where there is no fiber in place or other fixed infrastructure.
The potential of 5G can only be realized with investments in the agile network architecture. There will be challenges in this journey, but the possibilities are endless. All this will boil down to one question: Can we deliver delight to the customers without them asking for it? And that will add truly to the profitability and growth in revenue.
As the industry transforms, so will the ways in which we view content. How can the industry effectively combat piracy while also satisfying the consumers' growing appetite for content?

It is up to the Industry (and SAMENA Council can play its role) to harmonize spectrum requirements, enhance spectrum sharing to reduce coverage costs, develop innovative products customized for smart city, utilities, municipalities, e-Government services, and automation and so on. Have more channels to understand needs, offer platforms for co-development, enhance product offerings as one stop shop for all customer needs, and use data analytics to predict consumer needs and happiness.
Even in the 5G context, satellite remains the only viable technology to bridge the digital divide. It complements terrestrial networks to ensure seamless deployment of digital connectivity.
Leading regional regulatory authorities, global and regional telecom technology providers and operators, as well as global bodies and institutions contributed to the discussions during Leaders' Summit 2019, including among others CITC - Saudi Arabia, TRC - Jordan, TRA - Bahrain, TRAI - India, Saudi Telecom Company, Batelco Group, Etisalat International, du, Omantel, Orange MEA, Sudatel Group, Zain Group, Eutelsat, AT&T, BT Global Services, Huawei Technologies, Ericsson MEA, TechMahindra, Ankabut, GSMA, the World Economic Forum, and the World Bank Group.
"I am very pleased to have witnessed a prolific presence of leaders from all across the Industry, who took an active part in SAMENA Council's Leaders' Summit 2019. It was an honor to welcome each one of them. We have always had a highly distinguished congregation in the Summit, but this year's congregation of leaders was both globally and regionally most relevant, as the region is about to adopt 5G, and the exchange of insights and perspectives would assist in 5G technology deployment planning as well as revamping ICT policies and action plans. We, as Industry, have made tremendous progress, and this is especially seen in the UAE. I wish to immensely thank the UAE Government, SAMENA Council's leadership, the SAMENA Council membership, Leaders' Summit sponsors, speakers and moderators, and our team, for making Leaders' Summit a much-anticipated and a bespoke industry event", stated Bocar BA, CEO and Board Member of SAMENA Council.
The SAMENA Council's Leaders' Summit is an annual leadership event, encompassing private and government sector leaders' gathering, bi-lateral stakeholder meetings, and panel discussions, held among stakeholders in a world-class setting. Leaders' Summit 2019 has built on past discussions, centered around enabling a true digital economy, which can only materialize itself via the timely availability of 5G; thus requiring prompt attention to address the region's spectrum needs, making 5G devices available, and attending to cross-border spectrum interference as well as cybersecurity challenges.
- ENDS -