Digital Services Proliferation and Definition
A wide variety of digital services has proliferated globally across the public and the private sectors over the last 20 years. They span from public citizen services in, for example, the areas of travel assistance, work & retirement, tax, vehicles, residence formalities, education & youth, family, health and consumers, to public business services including VAT & customs and public contracts. There are commercial services to consumers, including communication services, video & entertainment, location-based or lifestyle services, mobile financial services, to name but a few; and there are enterprise services including information security, enterprise mobility management, unified communications, cloud services including storage, processing and analytics, services that are delivered through telco-industry partnerships and platforms to end-customers of other industry sectors (e.g. B2B2X), and many more. While digital services can constitute bespoke local solutions, their underlying deployment models can have global dimensions, where elements of the value chain can be spread across different countries and regions, as otherwise service provision in smaller, local markets can be uneconomical. An increased scope for digital services is emerging with the roll-out of 5G infrastructure, enabling enhanced greater speed broadband (to move more data), lower latency (to be more responsive), and the ability to connect a lot more devices at once (for sensors and smart devices (IoT).
Digital services can have many definitions, depending on the stakeholder perspective that is taken and therefore, there is not one agreed definition. However, based on various definitions available1, the core commonalities of digital services can be identified to include (a degree of or full) automation, delivery over the Internet or an electronic network, the use of information technology, and transfer of responsibility or control of service use away from the provider to the citizen or customer. In the context of the PLR framework, it is important to adopt a dynamic definition that is broad enough to capture the whole breadth of services available and flexible enough to allow future development and evolvement of services based on different and emerging technologies. The definition therefore needs to be forward looking and technology neutral and avoid hard distinctions based on current value chain positions of different ICT stakeholders. Figure 1 proposes a broad definition of digital services and sets out the different areas and types of services that have proliferated globally.
Figure 1: Definition and Overview of different types of Digital Services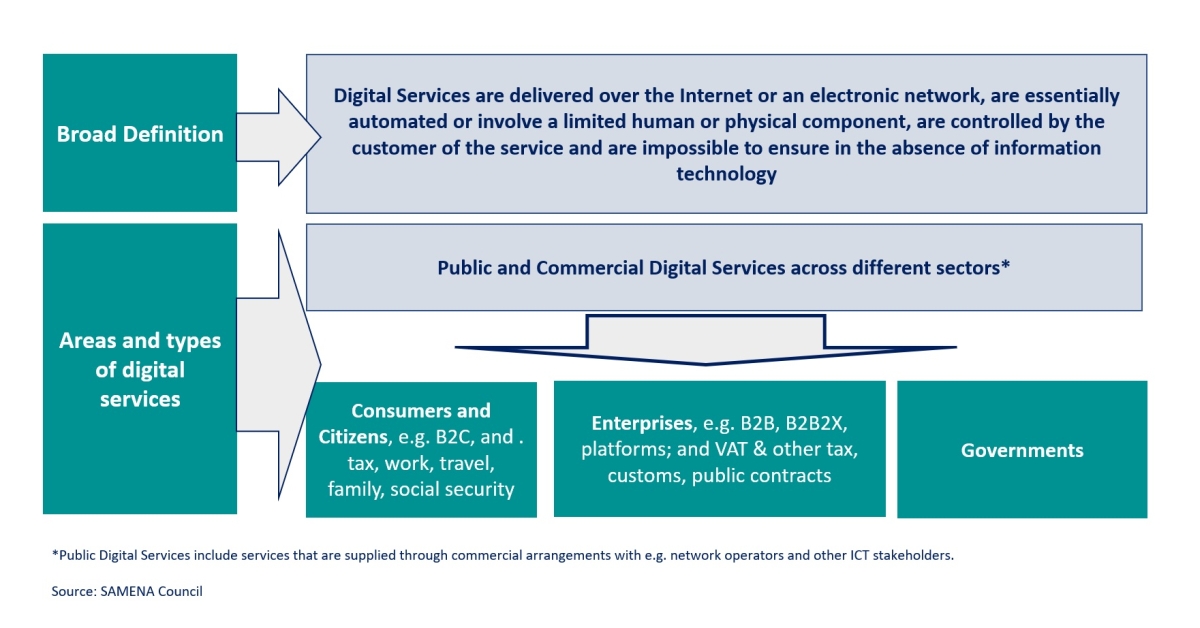 1 See: Article 7 of the COUNCIL IMPLEMENTING REGULATION (EU) No 282/2011 of 15 March 2011 laying down implementing measures for Directive 2006/112/EC on the common system of value added tax, https://eur-lex.europa.eu/legal-content/EN/TXT/PDF/?uri=CELEX:32011R0282&from=EN ; EU GDPR definition of information service: https://eur-lex.europa.eu/legal-content/EN/TXT/HTML/?uri=CELEX:32015L1535; EU electronic communications service definition: https://eur-lex.europa.eu/summary/glossary/electronic_communications_services.html , Lea&Cox Associates definition: http://esmarchitecture.com/key-concepts/business-it-digital-services.html ; Cisco's definition of a public digital service: https://www.cisco.com/assets/global/UK/public_sector/new/pdfs/DigitalPublicServicesWebSinglePageV1.pdf