Mobile communication service providers are increasingly struggling with competitive challenges that put their established business models at risk. Consumers' willingness to pay for voice and data connections is declining. Based on GSMA Intelligence, global voice and sms revenues will continue to decrease until 2025 with a CAGR of -5%.
Some of these challenges are:
Market Saturation: SIM card penetration rates exceeding 100%
Shift in Service Usage: Growth of internet-based alternatives
Low willingness to Pay: Low and decreasing price acceptance for telco services
Declining Revenues: Average revenues per user (ARPU) with downward movement
Growing Investments: High investments needed to cope with soaring traffic
Price Competition: Price-focused rivalry within service category
Service Commodities: Traditional voice, SMS, data access perceived as commodities
…
These developments are being spurred by Over-the-top (OTT) services such as WhatsApp, skype or Apple' Facetime that destroy the telcos voice revenue streams. The text message is emblematic of entire revenue streams that have been obliterated within a short time due to new technologies and new market players.
While all service provider types are impacted by these developments, Mobile Network Operators are most heavily under pressure due to their exposure to soaring network investment requirements.
Also, these developments are not limited to specific markets but are a global challenge that is, however, strongest for players in developed markets (e.g., Europe, Americas, Asia).
However there are still in this market environment opportunities to grow, mainly due to new technical opportunities.
High performance mobile networks are rapidly expanding and becoming more capable with Mobile Data Traffic showing high growth rates. 4G COVERAGE is extending at high pace, reaching almost full coverage in developed markets. 5G will be the next Mobile Communications standard with roll-out expected to start around 2020. Some of the standard's highlights are:
Higher data rates
Ultra-low latency
Higher connection density
Higher spectrum efficiency
Higher energy efficiency
Advanced Devices will from the other angle drive the potential of powerful networks and infrastructure. Mobile devices and Wearables are becoming smarter: 75% of all devices, including around 900m wearables, are forecasted to be "smart" by 2021.
Connected consumers become increasingly diverse with younger people below 30 years showing the highest "internet affinity" but also older age groups demonstrating high growth rates.
Providers of mobile communication services can and should extend their service portfolio through value-added services to increase revenues and to counteract customer churn.
Given the number of service types (e.g., communication vs entertainment) and delivery models (e.g., development vs reselling), a systematic approach is of central importance.
Value-added services go beyond core voice, text messaging, and internet access services and can be divided into four categories: Communication, Entertainment, Commercial/Utility and Information.
Based on technology innovations, increasingly better network infrastructure and high-end mobile devices, the demand and usage of especially mobile communication and entertainment services is constantly growing. Mobile messaging and voice-over-IP is continuously replacing conventional communication services.
Specifically entertainment services that require high data traffic benefit from the increased network infrastructure and performance. Time is money and information is everything. In a fast moving world having information at hand whenever needed is key.
Mobile commerce and utility apps allow for fast transaction and seamless booking and shopping experiences.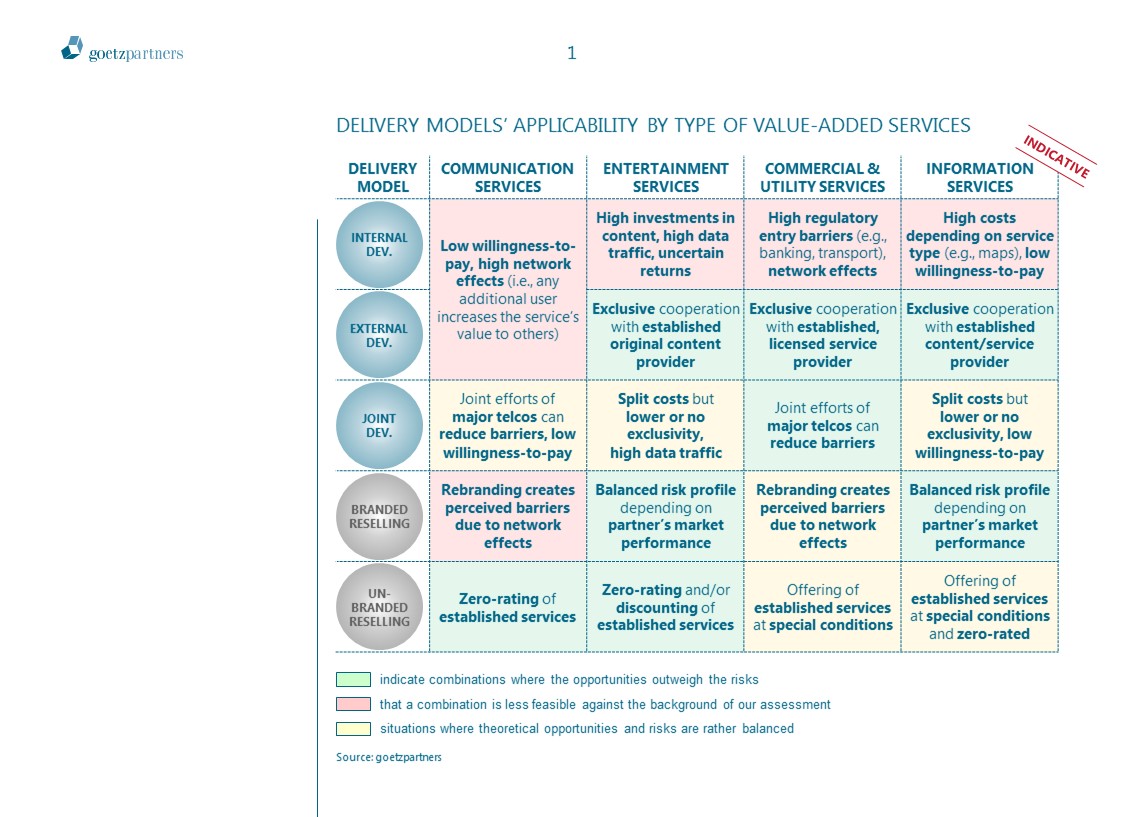 The availability of information 24/7 saves time and money. Peer reviews help for decision-making processes, and street maps and navigation services facilitate to find the way.
The selection of an appropriate Delivery Model is of vital importance for successfully extending the range of provided services.
Internally developed services are created by combining internal capabilities and offer the greatest differentiation potential: exclusive end-user provisioning and reselling to competitors.
Externally developed services involve partners of other value chain stages (e.g., developers, content suppliers) and offer similar potentials.
In contrast, jointly developed services involve partners of the same value chain stage (e.g., two MNOs). Such creations have a lower differentiation potential that is depending on the competitive relationship of the partners.
Reselling models involve already established services that are marketed either under the original brand (unbranded reselling) or using the telco's own brand (branded reselling).
What matters right now is that telcos realize that they have to offer products and services beyond connectivity. If they realise this and if they succeed in offering their customers attractive Value Added Services, telcos will still play a central role in numerous growth areas and will be an important enabler for growth areas – and at the same time ensure the future viability of their own business. goetzpartners can provide support to telcos creating an attractive Value Added Service Offering.