Digital disruption is evident across all industries driven by changing customer preferences, new digital competitors and access to new technologies. The telecom industry is no exception to this with shrinking revenues in traditional business; yet, new opportunities are emerging as industry landscapes are redrawn and transformative approaches become available in business operations.
As a response, most executives have placed digitalization as one of their top priorities, but very few have achieved any significant level of digital enrichment in their businesses. In a recent global study on Reconfiguring for Value, only 22% of telecom executives believe that they offer state of the art digital products and 78% of the executives indicated that they could do much more in offering a richer digital experience to their customers.
What does digitalization mean?
We observe that one of the fundamental executive issues in formulating a response to digital disruption is lack of shared understanding within the organization on the potential of digitalization and the corresponding vision to capitalize on the potential.
In our view, digital potential encompasses any or all of these three broad areas:

1) How can we leverage digitalization to redefine the core business?
2) How can we benefit from new diversification opportunities?
3) How can we enhance the efficiency and productivity of our operations?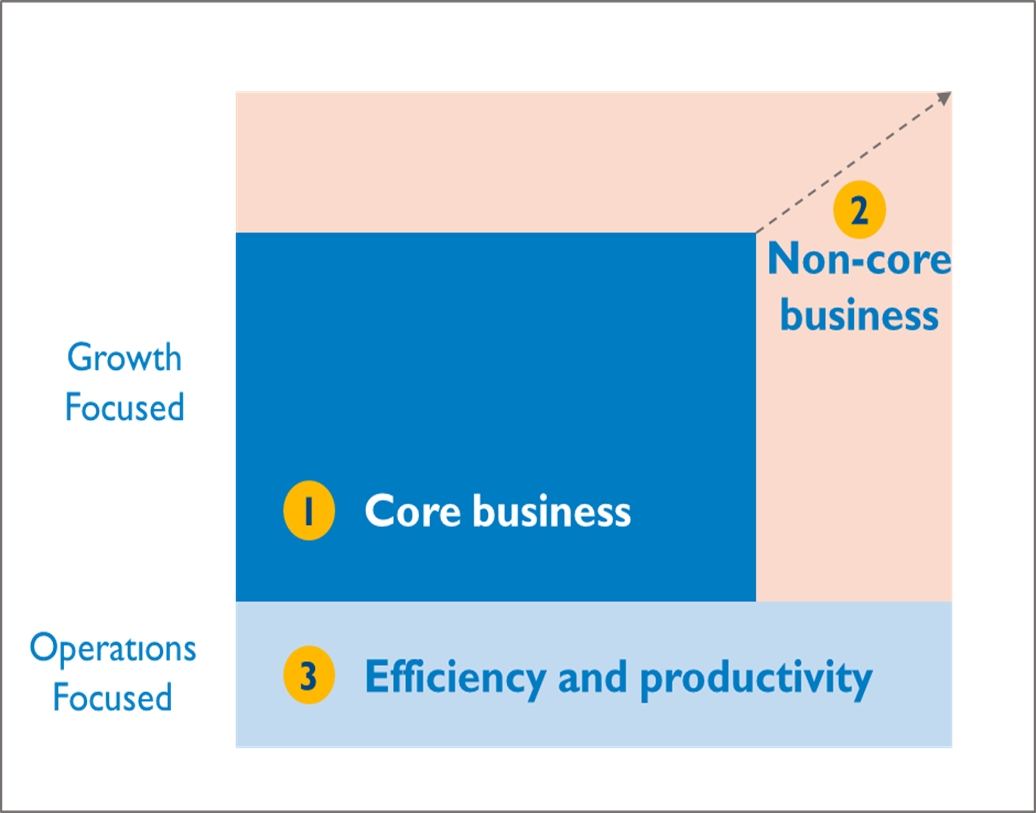 In our interview-based cross-industry Digital Transformation Study, we have gathered data and insights from 100+ participants across the globe. The telecom industry scores well in the digital maturity of products & services and customer management but lags across operations, supply chain, workplace and culture.
We typically observe that most of the current digitalization efforts by telcos are focussed on either diversification opportunities or creating new digital offerings to arrest core revenue decline. At the same time, they tend to under-invest in the potential of effectiveness and efficiency enhancements. This is because most operators continue to view digitalization in operations through a narrow lens. With emerging building blocks of cognitive, connected, virtual and human-centered technologies, we believe it is possible to reinvent the operating model for a telecom operator, reconfiguring them for value and enabling truly digital business models.
Holistic view for digitalization
A holistic view encompassing all components of a telecom operator's business maximizes the potential of Digital Transformation.
Digital Front End entails digital opportunities impacting the telecom operator business model. As ecosystems continue to evolve in the digital world, exploring new partners and cooperation models will help telecom operators to enhance the core products & services, reimagine customer interactions and venture into non-core business opportunities.
Digital Engine refers to opportunities of digitally enhancing the business operations to support the front-end. Customer journeys and business processes can be enhanced by generating insights from available data and redefining IT platforms. With increasing virtualization of telecom networks, the telecom operator 'business engine' can be completely re-hauled to instil agility and efficiency.
Digital Enabling secures the success of transformational efforts by ensuring a digital ready organization and capabilities. Defining and implementing the right organization model, acquiring required capabilities and instituting robust governance for steering and executing digitalization efforts are key for successful transformation.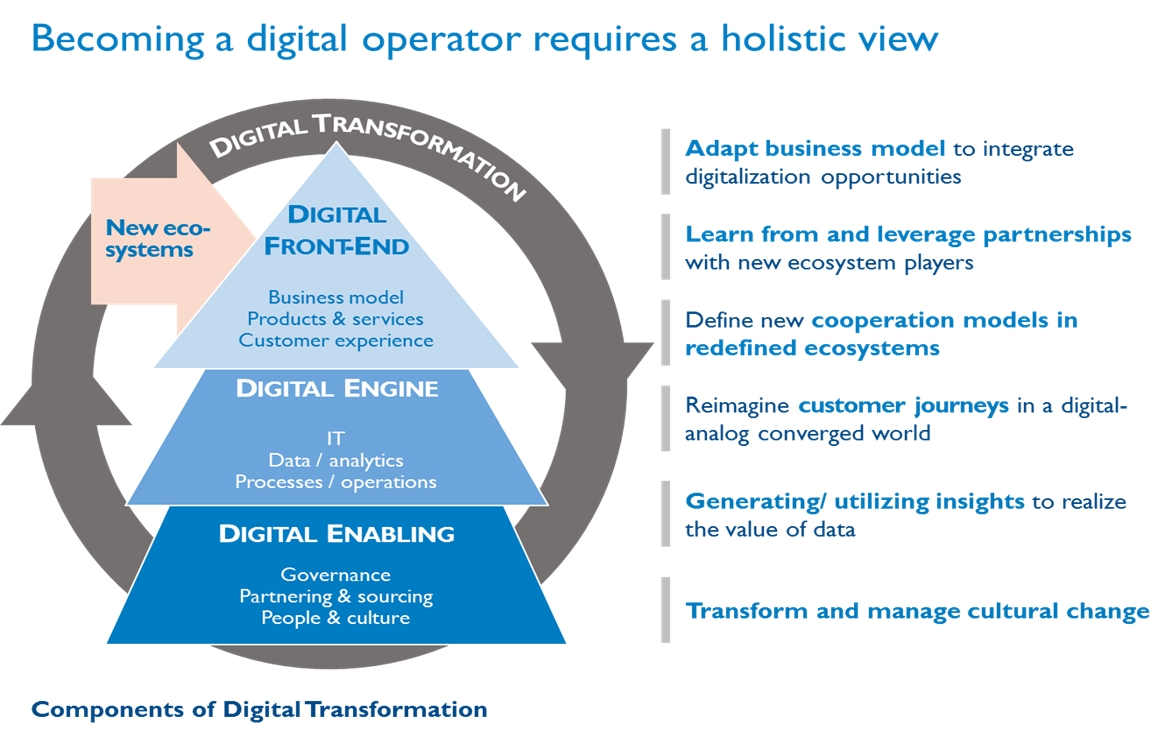 Realizing an aligned vision through Digital Transformation
In our Digital Transformation study, 80% of companies achieved only a "low" Digital Maturity rating. This is because of their ongoing digitalization efforts limited to products and services, without a clear leadership and committed strategy. We recommend operators to adopt a five-step approach to set an aligned vision and realize the same through their transformation efforts.
Digital transformation starts with a Target picturing step that envisions the operator's target state. Ambition-based inputs facilitate a more clean-sheet, open approach to set the target picture and underpin the long-term goals / targets. Known Condition-based inputs from internal stakeholders should set the base and the minimum level for the vision.
The second step complements the target picture with a Maturity assessment across all areas. An honest assessment helps identify pain points and inhibitors for digital transformation. For example, the digital front-end assessment should unearth the customer-engagement model is evolving to keep pace with customer behaviour and demand trends question. Similarly, digital engine assessment reveal if the infrastructure is adapting to customer business requirements, operations, and data analytics.
The third step builds upon the vision and constraints and entails Planning. Operators have to make conscious choices in defining the digitalization roadmap. In our experience, typical dilemmas include fixing vs. greenfielding; gradual changes vs. big bang; external incubation vs. internally driven changes. There is no one right answer to these choices; it should be determined by an informed evaluation in the specific operator context. Co-opting key stakeholders with objectives, responsibilities and accountability areas underpins the commitment to the plan.
The fourth step is of a continuous nature rather than a one-off initiative, and focuses on Optimization and Overcoming Inhibitors: Organizations are facing several inhibitors for change: people, capability and resources. We typically see top executives struggle with rapid execution: a common inhibitor being lack of digital-native capabilities within the organization. Continuously exploring ways to bridge these gaps going beyond corporate boundaries can help overcome the inhibitor.
Managing this Transformation journey is also about continuous adaptation with bold moves and decisions. The art of steering ongoing digital transformation towards the vision hinges on relentless focus towards committed results.