To enable the growing data-driven digital economy, governments in the SAMENA (South Asia/Middle East/North Africa) region need to review their legal environments. This will allow them to build on the progress achieved over the last 15 years and position their countries to take advantage of the impact of new data-driven technologies. New legal frameworks will have five features: promote information and communications technology (ICT) development, ensure accountability and consistency, have a modern definition of the ICT sector, encourage private sector participation and investment, and improve sector governance.
SAMENA countries have made considerable advances in their ICT sectors. These countries began with market liberalization to attract local and foreign investment into ICT. They then drove the development of new ICT markets in infrastructure and services. Most recently they have started the process of digitization in government and industry verticals. The result has been thousands of new jobs in the ICT sector, and elsewhere thanks to economic growth created by digitization. There have been significant gains to private and public sector firms, while society has benefited from improved services and communications.
The next phase in the development of the ICT sector is data-driven, which new legal frameworks must enable. The demand for data services is coming from such technologies as the Internet of Things (the connection of devices and sensors to the Internet), Blockchain (an encrypted ledger technology), drones (unmanned vehicles which are now being used for such tasks as deliveries and inspections), and 3D printing (creating physical objects using digital technology). New business models such as the sharing economy and pooling (such as ride sharing) and crowdsourcing (such as for finance) are also accelerating the demand for data services.
These new technologies are disrupting multiple sectors at once and blurring boundaries. The first characteristic of new legal frameworks is to accommodate and promote the continued evolution of ICT. Legal changes will have to deal with such issues as the privacy rights of consumers who are giving up large amounts of personal information. The legal frameworks will have to regulate the use of drones, define and protect intellectual property rights for 3D printing, and safeguard the rights of consumers whose information and money is affected by Blockchain transactions.
In the past, governments could manage with one ICT law. Today, what is needed is a series of complementary legal frameworks that can cover key concerns (such as consumer protection, cyber security, intellectual property, and privacy), or are industry specific, or can cut across topics and industry verticals. A national ICT law will be an important component in these frameworks but not their sole element.
The second characteristic of the legal frameworks is coordination among laws so that there is accountability and consistency. The new legal frameworks must be integrated as well as comprehensive. For example, a law on electronic transactions would ensure agreed standards among government entities on electronic signatures and transactions, which would help to define regulations for national digital transactions. Similarly, a law on competition would do more than just protect against anti-competitive behavior and mergers, and define penalties for such conduct. In the data-driven era, competition law inevitably overlaps with laws covering ICT and digital sectors. This means that legislators need to identify linkages among these legal frameworks and ensure that there are no loopholes. In particular, personal data protection laws are an important component.
The third characteristic of these legal frameworks is that they must provide a modern, up to date definition of the ICT sector. The scope should be broad enough to enable data-driven digital activities that encompass growing technological converge and make ICT efficient beyond the telecom industry. This means covering communications, IT infrastructure and services, horizontal digital platforms that span multiple industries, and vertical digital services.
The fourth characteristic of these legal frameworks is that they should provide incentives for private sector participation and investment. These new laws should incentivize the private sector to invest in national broadband, digital horizontal and vertical platforms, and digital consumer, corporate, and government applications. This will make ICT more vibrant, innovative, and increase its contribution to national economies.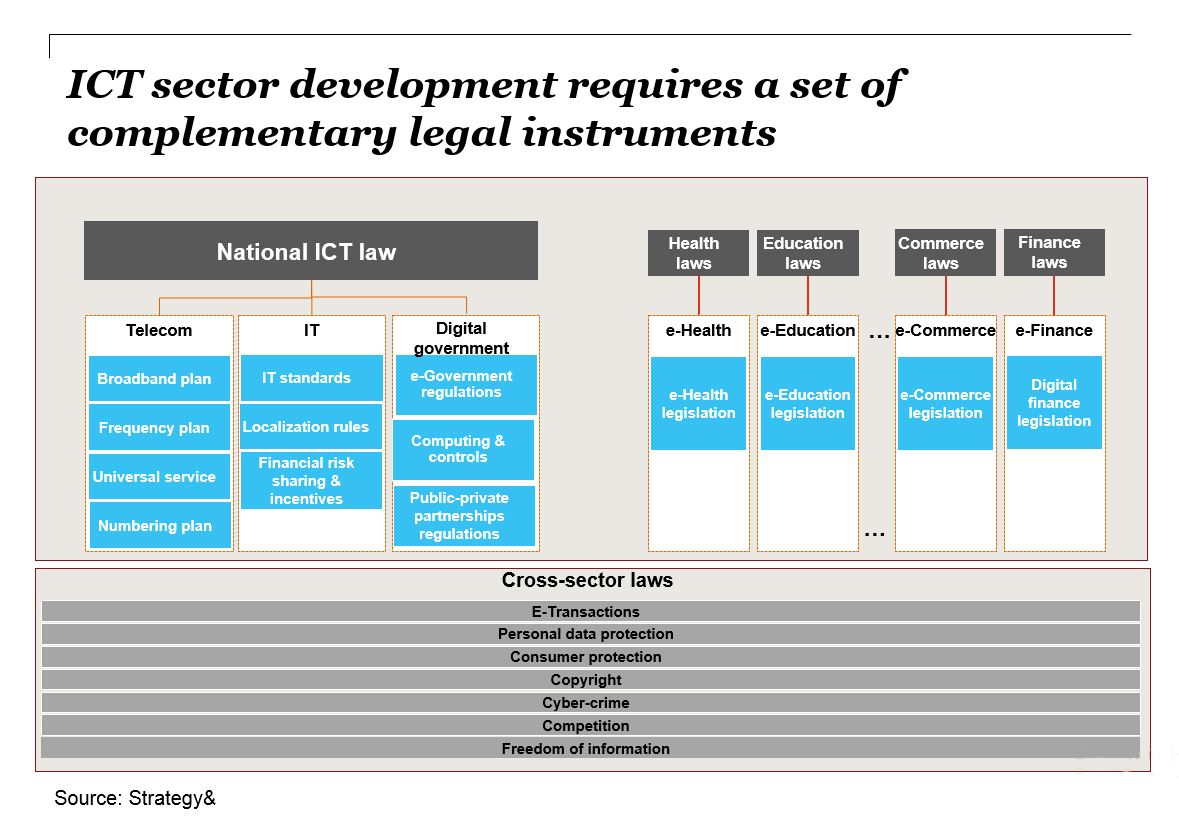 The fifth characteristic of these legal frameworks is that they should improve sector governance so that policymaking, regulation, sector development, and digital enablement are effective, efficient, and transparent. Regulations should balance the interests of consumers, providers, and the government effectively. Decisions should be made with high standards of independence, efficiency, transparency, and non-discrimination.
Having the right legal environment should be a priority for SAMENA region governments. Such policy, legal, and regulatory efforts are high impact undertakings as they are vital to building the future data-driven digital economy.